Juicing and Juicers – For Glowing Skin
If you have chronic eczema that has changed the texture of your skin, heed the advice of my nutritionist – "Drink green juices to heal your skin from the inside." Why do I say this? Because it worked on me.
Within 3 months of having full body flare ups, my skin was smooth and glowing. Green juices may seem gross, but there is a way of making them really tasty. Believe me! Read on to see how green juices can rejuvenate your skin quicker.
I usually drink between 1-2 litres of green juice daily for breakfast. Whenever I stop for a few months, I notice that the palms of my feet and hands get rough to the touch. My skin also starts to wrinkle…Looks like it's back to the gym to tone up! Not every juicer is the same.
There are two main types – Centrifugal and Slow Masticating.
Personally, I went through. 4 juicers of the former type and settled for a slow masticating juicer that has been well worth the extra splurge of cash.
So what's the difference?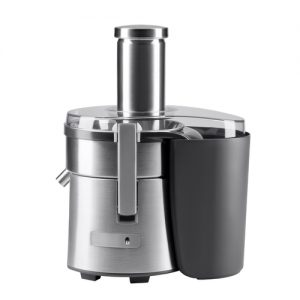 Centrifugal juicers have a spinning basket in the centre of the juicer and also juice your vegetables and fruit very fast. Slow masticating juicers have a screw type grinding attachment that separates the pulp from the juicer at a slow speed.
Slow masticating juicers keep more nutrients in your juice as there is less heat due to the slow grinding action. They are also more expensive. We are talking £150-£1,500.
Centrifugal juicers can be bought in most general shops and are useful for the person who is just beginning to juice and who drinks just one to two glasses of juice daily. However, when I started to make 6 glasses of juice daily, the juicer would pack up on me and often certain pieces would break
I finally bit the bullet and splurged on an Oscar 900 Juicer which is still serving me well 5 years later.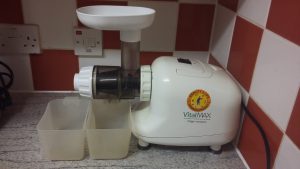 Sometimes I have mistakenly broken the front end parts whilst in use but have replaced them. The motor has always worked fine. Just to let you know, the difference between a juicer and a blender is that the juicer separates the pulp from the fruit/vegetable whilst the blender makes a smoothie of the whole fruit/vegetable which is chopped up into small pieces, then blended smooth.
I use a Vitamix blender as it is great for blending even nuts and seeds. It is powerful enough to make nut butter and various spreads, dips as well as nutmilks. As it is a blender, you may need to add water or other liquids to enable the blender do its job efficiently.
Here's a Typical Example of a Juice I make:
Carrot Apple Delight
You will need:
5 carrots
2 apples
1 cucumber
A handful of parsley including stalks
2 slices of lemon
1/4 inch of ginger root
Method:
1. Simply chop carrots and cucumber in half and then length ways. Put each piece in juicer.
2. Then chop the apple and juice.
3. Add ginger toot and lemon slices including the rind
4. Juice the ingredients, drink and enjoy
Note: It is standard practice to add the juice of one quarter of a lemon slice to any of your juices to keep it looking fresh and help retain the colour.

A Typical Example of a Blend/Smoothie
Using the same ingredients as you did for the juicer, chop all the fruit and veg into smaller pieces and add to your blender 1/2 a cup of water.
Remember to remove the lemon rind when making this.
Blend on slow speed at first for 10 seconds, then gradually increase speed to high for 30 seconds. If the veg or fruit is hard like carrots or sweet potatoes, blend for up to a minute.
Job done! Drink and enjoy your smoothie!
You can also make soups, purees, pates and nut butters with a Vitamix blender.
As a rule of thumb, when making your juice, you want to choose fruit-vegetables like tomatoes or cucumbers because they contain a lot of water. They also make strong tasting leafy vegetables, like kale or coriander, more bland.
Make sure you use 1/3 leafy vegetables to either 1 chopped cucumber or at least 6 organic tomatoes.
You can also juice sprouted beans, lentils and alfalfa to add more nutrition to your juice or blend.
For more flavour, add turmeric, mint leaves or ginger…And enjoy your juice or juiced blend!
If you have any questions or comments, feel free to leave them below.