Okay, so I have told you about bowel cleansing and its importance in ridding your body of eczema.
Now, let me tell you about oil pulling – a simple method that can be  optional and easy on your pocket.
All you need is a jar of extra virgin coconut oil from a health food shop.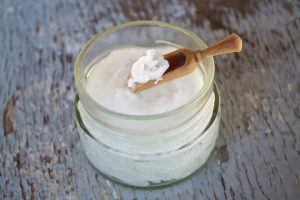 Method: Take a teaspoon of the oil and put it in your mouth, rinse your teeth well with the oil   and your tongue for 20 minutes.  You can do something else while doing this to let the time pass by quicker.  What about this?
Listen to a good calm song
Healthy for your soul
Keep smiling and you will find peace
God cares, God cares trust in Him
God cares, cares and is gentle and kind
God cares, cares full of discernment
God cares, cares, full of wisdom
The toxins in your mouth will pool into the oil. Spit the oil into your bin rather than the sink or toilet so you don't clog it.
By the end of one month, you will find that your skin is smoother and also there is the added bonus of your teeth becoming whiter. If you have sore gums, they will be less sensitive.  During next year, you will find that you are a whole new person who is more full of joy….Keep smiling – this works! 
You are the apple of God's eye – blend your apples with mint,  half a bunch of parsley, a hint of pepper, cucumber and one teaspoon of flaxseeds (linseeds).  You will need a lot of parsley  and if you grow it, even better.
You can substitute a cucumber for 10 tomatoes if you like. Keep trusting and commit your way to the good path.  He will bring your healing to pass…Just believe!
During Each Day of Your Healing
Keep thinking happy thoughts during this process…Rome wasn't built in a day!  You are precious so taking care of your teeth, just like Rome made a city fortified, take pleasure in looking after yourself as God cares for you…  Give yourself a reward and take joy in looking after your teeth.    Afterwards sing a song while listening to a good tune. Trust you are healed.  
But the main thing is to be still and think one happy thought at a time…"God loves me" ….Just one happy thought….can change your life forever.  So keep thinking of this thought for perhaps 5 minutes and then increase the time to 10 minutes each day.
God loves you, so tell all your friends and family the same thing and see what will happens.  They may be surprised – that's alright…the true ones will shine and be happy for you.  Find a good book to read or whatever your hobby is, with the happy thought that God loves you.
Remember that rumours pass and rumours fade.  God's word is always the same.  Read a word or verse a day – God's word is always the same. It may be old-fashioned, however the author still has you in mind, always trust and obey, listen to His voice according to His word….
Indeed if you will listen to the one that is within, you will find peace, just present an offering of praise with thanksgiving and you'll find peace within your soul.
May you be in health and prosper even as your soul prospers…