While surfing on the net for a solution to heal my baby's severe eczema, I came across Neocate. It is a baby formula specially designed for babies with cow milk allergy or lactose intolerance.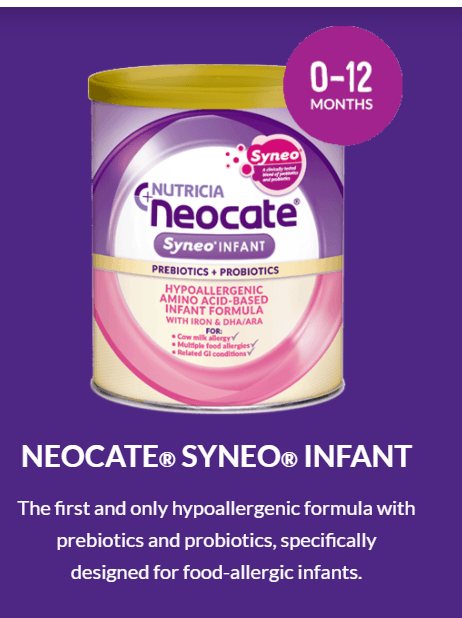 Neocate is a Nutricia brand, a specialised medical nutrition company that is part of the Medical Division of Groupe Danone, Paris.
Neocate is hypoallergenic and easy to digest.
Complete nutrition for your child when feeding the recommended amount.
Fast and effective dietary management of food allergy symptoms
Preparing Neocate Safely
Make sure all your utensils are thoroughly washed and sterilised
Use a steam steriliser when cleaning your child's bottles as this is easier
Always prepare the formula immediately before feeding
Shake or stir formula before use
Do not warm formula longer than 15 minutes before feeding
Discard leftover formula from baby bottle after 1 hour
Do not re-warm formula as this can cause loss of nutrients
Please note;
Your child may show increased appetite and start taking large amounts of Neocate once his or her symptoms are resolved.
This is normal especially if the child is underweight for its age.  It is your child's way of catching up with its growth.
Where can I find Neocate?
Neocate baby formula is only available on prescription from your GP or dietician. You cannot find it in shops.
My son had eczema from head to toe and was quite poorly. I asked his dietician for Neocate and he was allowed to have it on prescription.
His eczema subsided within 3 weeks of use and he is still clear 11 years later.  Obviously he only had Neocate up until 5 years then was given soya milk based products.  We did try to give him normal dairy milk for his cereal or porridge, but the lactose intolerance was still evident so we stopped the dairy milk.
What Is Neocate Infant Formula Made Of?
It is made of amino acid based formulas.  This means it is unlikely to trigger allergic reactions unlike milk protein formulas.
Rice milk and soya mill formulas are not recommended for infants with food allergy during the first  6 months of life.
Rice milk does not contain necessary nutrients  your baby needs like protein, calcium iron and some vitamins.
To find out more about Neocate Baby Formula, please visit https://global.neocate.com
If you have any questions or comments about this article, please feel free to ask me in the Comments Section below.