Scalp eczema is another name for Seborrheic Dermatitis. It is characterised by a dandruff-like condition on the scalp and sore eczema patches.
Did you know you can treat your scalp eczema naturally and regain a full head of hair which is also thick and healthy?
Listen…Let me tell you about the Scalp Eczema Regime that I did for 2 years, to heal the scalp eczema on my head and regain a full head of thick hair..
First of all, a bit about my background: I suffered from eczema as a child and had eczema at the creases of my elbows, knees and the back of my neck. That was about it – so I didn't really bother much about it. I suffered from this condition throughout my childhood. Then when I was 13, my parents and I went to live in Nigeria. A cousin and I were given some herbs to drink (bitter herbs)… Well two weeks after drinking this, we had boils for about 2 weeks and then the eczema mysteriously disappeared for 16 years.
I returned back to the UK in 1986 and everything was going smoothly. Then in 1999, a small eczema patch appeared on my leg, which spread to my entire body. I went through the normal route of GP and hospital visits. Also, steroid ointment and cream use. Even light therapy! None of these methods worked, so I looked for natural means to sort me out without thinning my skin. By 2016, I had scratched off both eyebrows, all the hair at the back of my head and also my sideburns. (Yes, I'm a hairy little lady!)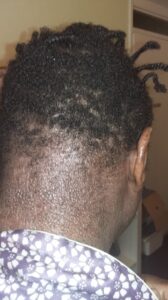 I also suffered from the dreaded dandruff flakes which prevented me from wearing feminine black blouses. Because the flakes would be highlighted against the dark background of my tops.
Fast track to 2020 where I have no trace of eczema and have a full head of hair as you can see in this picture.
Fortunately I came across a company whose products had ingredients that I was not allergic to. I used their products and low and behold, one day, I noticed that the scalp eczema had completely disappeared. I do not itch my head in the slightest now.
This is the routine I used to clear the eczema from my scalp….
Eczema Scalp Treatment Routine.
For this to be effective, you will need the following products; either liquid black soap which you can buy from Akamuti.com an online store based in Wales, UK, or Forever Living Aloe Vera Shampoo and also the Aloe Vera Jojoba Conditioning Rinse.
You will also need a 500ml bottle of olive or jojoba oil and also a packet of Dead Sea Salt.
The routine goes like this;
1 Spray your hair and head with warm to lukewarm water that has at least 1/3 cup of Dead sea salts in it.
If your head is sore with eczema patches this will sting slightly but don't t worry… all you need to do is add a tablespoon or 2 of olive oil to the Dead Sea Salt water.
This combination very healing to the body and it also dries up the patches while it soothes your scalp.
2. Then put a dollop of the shampoo into a jug of water, and proceed to wash your scalp and hair gently. You can add more shampoo to the mix, if your hair is long.
The ingredients of the shampoo are: aloe barbadensis Leaf juice and other naturally sourced ingredients from Forever Living's organic farms in the United States.
3. Rinse your hair after washing gently,
4. Then, condition your hair with some diluted Forever Living conditioner from a plastic jug.
5. Leave the conditioner on your hair for about 10 minutes and rinse off. You can repeat this step if you like, but make sure you rinse your hair and scalp thoroughly.
Moisturise, Moisturise, Moisturise!
This part of the treatment is very important as you need oils on your scalp and hair so that your scalp can heal from eczema patches and any scabs..
Rub a teaspoon or a tablespoon of oil between your hands and moisturise your scalp and your hair to the tip ends. Comb through. Then air dry.
The oil that I recommend is either olive oil or jojoba oil as they are non-allergenic oils. You can buy extra virgin olive oil or extra virgin jojoba oil from either a supermarket or health food store. Make sure the oil is a good brand and that it is stored in a dark green glass bottle to prevent it from going bad.
Another Tip.
Akamuti.com is an online store that specialises in natural and organic African hair and skin products. These are packaged by Akamuti and not your regular branded products that you find in the supermarket. They are a just a little bit more expensive than what you normally buy in the supermarket. What I find is that the quality is superior to what you find in the supermarket and it is worth the money you spend. You can use these products no matter your hair type.
If you are allergic to Forever Living shampoo or conditioner, because you are overly sensitive to 1 ingredient, the next thing that I could recommend to you is use African black soap that is organic. This is very, very gentle to the hair and it does not dry it out. It doesn't contain perfume in it and is made from totally natural ingredients that will still clean your scalp without irritating it.
You can also buy organic shea butter from Akamuti.com. All you need is just one block. It will last you for at least a month.
Shea butter is like an a solid block of skin balm What you do is break off a little piece of shea butter from the block and rub it in the palms of your hands till it melts. Make sure you get the shea butter on the tips of your fingers and then apply the shea butter to your eczema scabs or eczema patches.
If you find the shea butter is too thick for you to rub in your palms, put your block of shea butter into a glass jar – like a small mason jar and then add half a cup of olive oil to the block in the jar. Put this in the oven on a low heat for 10 minutes or until the shea butter has melted into the olive oil. What will happen is that the shea butter and olive oil will mix together naturally and you will have what is more of an ointment than a solid block of shea butter that is hard to manage.
NB: Please beware of heavily fragranced shampoos and conditioners. Also use shampoo with as few ingredients as possible – even the natural ones! Why? Because one of the ingredients could be the one that is irritating your scalp
2. Reduce your intake of sugar and floury foods, for example;
1 Biscuits
2. Bread.
3. Cookies.
4. Cakes.
5. Doughnuts etc.
3. Invest in a good juicer. For example, these brands are very good and hardy;
Omega, L'Equipe or Hurom brands will juice leafy veg and hard fruit, leaving behind a drier pulp than you would get with a centrifugal juicer.
These type of juicers are slow-masticating, therefore do not heat up the juice as juicing is being done. They are about $100 more pricey than your regular centrifugal juicer but they are stronger models and more sturdy. You will get at least 10 years use out of them if you take care of your juicer. Plus, they are easy to clean!
If you are a person of colour (brown) you not need to wash your hair too frequently as otherwise you could dry your scalp out. I recommend, for those with scalp eczema, you wash your hair every two to three weeks. When your scalp is totally healed, and the dandruff gone, you can change the frequency of hair washing to once a month…
Don't worry, because you are only using natural products in your hair, you will not experience any build-up.
If you are a Caucasian or a white person, then obviously it would be better for you to wash your hair every 5 to 7 days so that the natural oils of your scalp can shine through your hair. Ok? Do not wash your hair everyday, otherwise you could irritate your scalp and dry out your hair. You could actually cause it to become more flaky….
Why? Because your head produces sebum which is the name for natural oils produced by your body and it is the sebum from your scalp that conditions your scalp and hair. Think of a plant in soil being fed by the nutrients in the soil to get a picture of what I mean…
How Long Do I Have To Keep Doing This Routine?
For you to see a big difference in your scalp eczema, its reduction and also hair growth You should give this treatment at least 3-6-months, to see a difference. Hair grows slowly so do not expect overnight results when you're treating your scalp eczema naturally.
Once every month or, every two months, do an oil treatment. This is very useful for your hair's condition as well as your scalp and roots.
Hair and Eczema Scalp Oil Treatment
Slightly dampen your hair with Dead Sea Salt water then

Pour a 4oz cup of olive oil on your hair and scalp. Make sure that your hair is almost dripping with oil and that you oil your scalp very well. Put a plastic bag over your head followed by a very warm damp towel.
The bag and towel combo steams your hair, while at the same time trapping in the oil so that you don't leave a trail of olive oil across your floor.
Keep the towel and plastic bag/cap on for at least 2 hours. If it causes you to itch or overheat obviously, you have to take this off. It is best to use material that is suitable for the condition of your scalp.
Then condition your hair and shampoo it as stated in my Scalp Eczema Treatment Routine.
Just for the record, the ingredients of Forever Living Aloe Jojoba Conditioning Rinse are all naturally sourced from Forever Living's organic farms in the United States. .
I had scalp eczema for 14 years and when I started regularly using the shampoo and conditioner from Forever Living, I never realised how good the shampoo was until 1 day after using the products for over 6 months, I noticed my hair was completely free of eczema and flaking dandruff.
I have been completely eczema free for more than 4 years now and my hair has grown. I have a big fat afro and my hair is thick and healthy.
I must admit diet makes a huge difference as well. Make sure to drink plenty of water or green vegetable juice and always include garlic, ginger and lemon and two apples. For taste. I vary the constitution of the juice or avocado smoothies I consume on a weekly basis. And have between six to eight glasses of vegetable juice or smoothie daily for breakfast or at least 2 hours before I go to bed.
I do not take any multivitamins or use any special soaps or serums in my hair. The only thing that I use are the products that are mentioned here – olive oil or shea butter and Forever Living shampoo and conditioner.
Do You See How You Can Save A Lot Of Money On Hair Products?
To find out more about Forever Living products and what these products can do for you.
I know that you may have tried lots of creams and lotions. Probably thinking this seems to be too good to be true.. But one thing I must say from personal experience, is that this routine works. Whether you have dry scaly skin on your face or dry skin on your scalp accompanied by dandruff, you will find that if you use the Aloe propolis cream on your face it will be kinder than the prescribed treatments that contain steroids. You may need to apply the cream on your face at least three times a day.
Forever Living Shampoo and conditioner are kind enough for children's skin and are also useful for all types of hair. Please remember that these products are only specifically designed for people with eczema although you can still continue to use the shampoo and conditioner even after your hair has regrown and your scalp is free of eczema.
To Discover More Information About Forever Living Products, Click Here