Kefir is full of good bacteria for your gut. It originated from the people of the Caucus Mountain region, Russia. Kefir is milky looking grains that ferment cow, goat or sheep milk and help it become more easily digested.
So what's the difference

between kefir and yoghurt?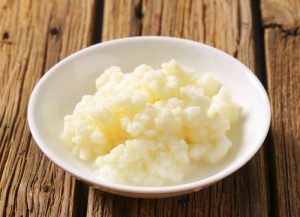 Normal natural yoghurt only contains a few strains of beneficial bacteria.  Kefir – what I call 'Golden Yoghurt' contains at least 30 strains of the good stuff.  Its superior to even Greek yoghurt and the good news is that you can make it at home.
As the  store-bought kefir has been  pasteurised, you will find that home-made kefir  not only tastes better, but is made of kefir grains that multiply and grow in any kind of milk you put it in. Except for UHT Long Life milk.
How Do You Make Kefir?  
Very  easily;
Buy a tablespoon of kefir grains online.
On receiving the grains, place them in 100ml of room temperature milk.
The milk and grains are best placed in a thick glass jar and covered with a loose lid.
Leave on the kitchen counter in a dry slightly warm place.
The next day, check your grains.  If your room is warm, the grains would have begun to ferment the milk.
Another 24 hours later, check your milk again.  It will get thicker every 24 hours.
On the 3rd or 4th day, you will notice the milk turning into curds and whey.
Taste the milk.  It should be slightly sour and even a bit fizzy as milk alcohol is produced by the grains.  You heard right – 'milk alcohol'.  Don't worry, it's not strong enough to get drunk on.
Pour the milk into a cup leaving the grains in the first jar.
Repeat the process using the first jar.
You will notice the grains start to grow and multiply….You can slow down the growth of the grains by putting the milky substance in the fridge.
Personally, when I had half a Pyrex bowl of kefir grains, I started given away the grains to my friends.  They all loved it and one of my friends even put on some much needed weight.
Where You Can Get Ready-made Kefir Milk
I used to buy Kefir made from goats milk from Chuckling Goat, in the UK.
An alternative supplier is The Live Kefir Company.  They are highly recommended and you can get fresh kefir made from goats milk from them on Amazon.
And if You're Lactose Intolerant?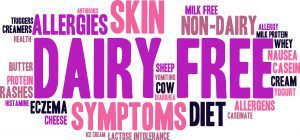 Do not worry.  The longer the milk ferments, the more the protein is broken down by enzymes.  It becomes more protein and full of Vitamin B-complex.
As a result, the kefir is easily digested by eczema sufferers.  I used to have a litre in the morning for my breakfast as I found it to be so delicious. My skin tone came back and I looked really healthy.
Regarding the benefits of kefir, the Eastern Europeans use it for weaning babies off breastmilk, prevent themselves from landing in hospital, and also use it for the elderly to keep them healthy and strong.
Here is a breakfast recipe you might want to try:
You will need oats, kefir milk, bananas and raisins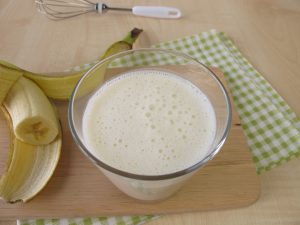 Method:
Place half a bowl of warm porridge onto a firm table.
Chop up 1 large banana on top of the porridge.
Add a handful of raisins
Then add the kefir milk as a topping.
Eat and enjoy!