In this section I will tell you about body masks. If you have dry or wet eczema, you will find great relief in using these once a week.
The first Mask is a Clay, Oatmeal and Honey Body Mask.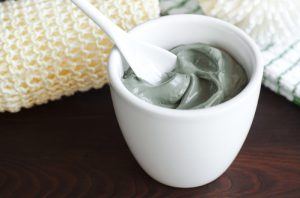 You will need 1 cup of green or yellow Argiletz clay, 1 cup of oatmeal (freshly ground) and 2 tablespoons of honey. Put these ingredients in a thick glass bowl. You will also need enough water to make the above ingredients into a gloopy paste – not too thick but not runny either. 1-2 tablespoons of olive oil can be added to the clay mixture.
Smear the mixture all over your body including the parts with eczema. Let it semi-dry. The rinse off with lukewarm water.
As this is rather messy, you will need to do all of this in your bath.
The clay body mask is very good for healing your body from scars and helps it heal faster. It also absorbs toxins from your skin, yet feeds it with minerals.
I also use a simple clay, water, oil paste for cuts and bruises – even cold sores!
This is kind to the most sensitive of skins.
Oatmeal and olive oil mask
This mask has just three ingredients – 1/2 a cup of green Argiletz clay, 2 tbsp of olive olive oil and 2 tbsp of water.
Method:
Mix the clay with water and olive oil until it is a slightly thick paste. Use a wooden or plastic spoon.
Paint your body parts with the eczema on with the paste.
When almost dry, rinse off with lukewarm water.
Where You Can Get Argiletz clay
In the past, health food shops used to stock this clay. Now it only seems to be available on Amazon. Go check it out!
If you find a clay mask too drying – do this
Use Moor Mud instead of the clay. You can find moor mud online. I use Moorspa brand. They are based in Uckfield, UK.
When using moor mud, you don't need to mix it with other ingredients. It works well on its own.
If you have any questions or comments you would like to make, please put them below.